myCosmeticBag, Makeup Reviews, Makeup Tutorials
pandora's box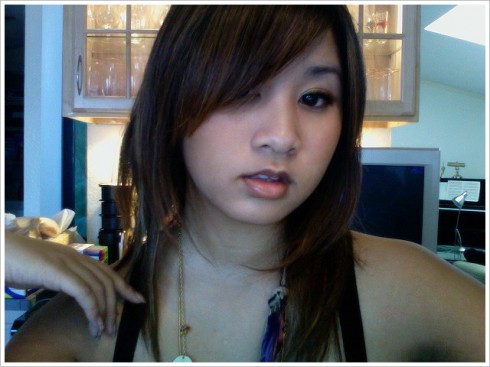 Top Friends
About Me
My name is Christine, but everyone around here calls me Trish - I'm not exactly sure why. I had the "honor" of being an Administrator on this site for many months before I ultimately decided to step down for personal reasons. I work more behind the scenes now, and it's actually been a bit refreshing.

Those that have actually met me will tell you that I act no differently in real life than I do online. There's no act or persona, just me. If you don't like me, I'm really okay with it. I probably don't like you either.

I laugh immensely at those who accuse me of acting tough exclusively online. Those are the same people posting things about me that they wouldn't dare say in my physical presence for fear of death by blunt trauma. Somehow they don't see the extreme hypocrisy in that.

I now run a website called myCosmeticBag.com, that's just starting out. Right now it's just a d blog, but my partner and I plan on expanding it into a whole social networking community revolved around makeup and beauty.
| | |
| --- | --- |
| Name | Christine Pham |
| Gender | Female |
| Age | 21 |
| Location | Santa Ana, CA |
| Ethnicity | Asian |
| Interested in | Both |
| Status | In a relationship |
| | |
| --- | --- |
| Interests | design, work, dance, music, piano, singing, sleeping, hugs, cuddling, spooning, spooning your mom, milk chocolate, gummy bears, wiggling, your mom, money |
| Music | amy winehouse, kanye west, black eyed peas, fergie, danity kane, gnarles barkley, the killers, panic at the disco, fall out boy, tool, system of a down, nin, anna nalik, rachel stevens, alicia keys, utada hikaru, namie amuro, the sneaker pimps, she wants revenge, shareefa, the refugees, wyclef, lauryn hill, jill scott, erykah badu, brooke valentine, rihanna, etta james, billie holiday, fiona apple |
| Movies | boondock saints, the departed, the prestige, the illusionist, the breakup, lord of the rings, the davinci code, oceans 11 & 12, the omen, matchstick men, babel, run lola run, 40 year old virgin, knocked up, the covenant, dan in real life, the golden compass, good luck chuck, juno, atonement, enchanted, sweenty todd |
| TV | heroes, greys anatomy, prison break, buffy, charmed, scrubs, family guy, boondocks, desperate housewives, one tree hill, alias, lost, dead like me, dark angel, naruto, bleach, the boondocks, america's next top model, gossip girl |
| Books | sweep, lotr, to kill a mockingbird, most robert jordan series, a song of ice and fire series, the alchemist, jane eyre |
| Quotes | "The world doesn't owe you anything. It was here first." - Mark Twain "Disney sets up impressionable young children for a world of failure." - Me. |
Statistics
| | |
| --- | --- |
| Status | |
| Friends | 151 |
| Winks | 28 |
| Comments | 236 |
| Page views | 45,245 |
| Posts | 3,335 |
| Group | Official Designer |
| Registered | Feb 15, 2004 |
| Last update | Jul 10, 2009 |
Recent Entries
Recent Photos
Web Skills
HTML, CSS, JavaScript, VBScript, PHP, ASP, Perl, ColdFusion, MySQL, MSSQL, Photoshop, ImageReady, Fireworks, Flash, Paint Shop Pro, Animation Shop, Apache, Linux, Windows, Mac OS
Videos
Disclaimer
Please do not copy my code and use it for your own profile without asking for my permission first. That would be called jocking. I don't mind sharing, but it would just be nice if people asked me. Bad things will happen if you jock my code. (Like
This
) Thanks.